In the Summer of 1980, Casio erected the world's largest wristwatch as a billboard in New York City's Times Square. It measured 36 feet wide and 64 feet high, and the watch actually worked! The display showed time in hours, minutes and seconds and displayed the date & day every 15 seconds. Does anyone know when it was taken down? Photo from Popular Electronics, 9/80.
---

Sting spotted at NYC club Limelight wearing (gasp!) a Casio J-100 Jogging calculator watch, 1984. Photo from so8os by Patrick McMullan.
---

Here's an exclusive, a catalog scan showing the variations of the Seiko G757, arguably the make's most desirable digital watch.
---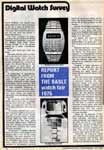 Famed video game author Archer Maclean is not only a classic arcade collector, he's a digital watch enthusiast, too! He provided the scan above of an article from the British electronics mag ETI, detailing the digital watch lineup for 1976. Great stuff! He writes,
"Well, like many other watch collectors I am firmly in the 70's mold. In the mid 70s I would skive off school and use my dinner/meal money to get on a train and go into London's west end to play the very early video games, as well as look at all the gadgets in the back street shops full of gadgets. I had very little money, but my lust to build little electronic gadgets, and build very early homebrew simple microprocessor computers, and the desire to write entire arcade games on these machines, meant that I would find entrepreneurial ways to generate some extra cash.
Even at the age of 13/14/15 I was building electronic gizmos and whole computers for a profit. This would find its way into more computer gear, AND digital watches. LED and LCD watches were then hi-tech must have gadgets. Sadly I was not able to buy all these, and merely had one or two. I use to subscribe to the electronics magazine (the one attached) and I even ended up doing some work on that very magazines electronic products. Now, one day in 1976, I saw the attached article. I must have spent days pouring over that. I read everything I could. I had wonderlust. A lust which has survived to this day."
---
In 1983 Giorgetto Giugiaro, a prolific Italian designer (you've seen his work on Maseratis, Ferraris and Alfa Romeos) teamed up with Seiko to create a very cool digital Speedmaster line. They were offered in three colors: black, olive green and silver. They offered an array of timekeeping functions useful only to a professional racer, but since when do watch functions have to be practical? Toward the end of the 1990s, Seiko re-released the digital Speedmaster; this new line included a very interesting gold tone version, as well.