When you think of 007's marvelous spy gadgetry, what comes to mind? It'd have to be the multi-purpose wristwatch–a timepiece facade cloaking a laser, poison dart or explosive underneath. The Rolex Submariner is probably the recognizable Bond accessory, but some very sexy Seikos graced the screen during the Roger Moore years.

Seiko's 0674-5009 watch from the 1977 film The Spy Who Loved Me. In the movie, this "fax" Watch prints messages from headquarters with a little impact printer.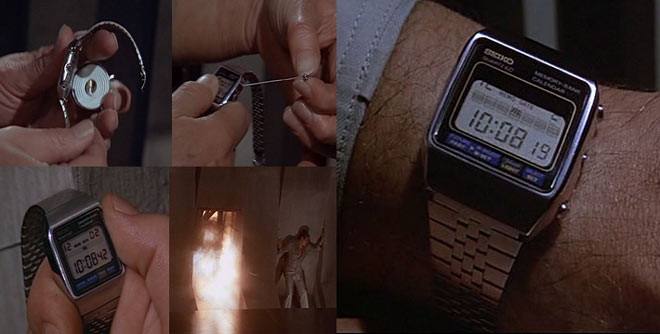 Seiko M354 Memory Bank Calendar watch from the 1980 film Moonraker. Complete with explosives!

Roadside Seiko billboard in the hills of Rio de Janeiro, spotted in Moonraker.

Famous Sports 100 model of the Seiko G757 modified to track a transmitter in 1983 film Octopussy.

From Octopussy, Seiko's TV Watch tested in Q's lab. The real version has a black & white screen.

From the 1981 Bond film For Your Eyes Only, a modified Seiko H357 Duo Display receives messages from HQ on a scrolling LED marquis.