This is our homage to some of the greatest and most innovative portable stereos of all time, a Ghettoblaster Hall of Fame. The models below are the hallmarks of quality and innovation in the portable stereo world. You will not find anything comparable in today's price-conscious and disposable marketplace, they are but fading memories of another time. Limited production and heavy price tags made many of these stereos exotic even in their heyday. While there's no substitute for the real deal, we hope you enjoy a virtual tour of some of the coolest stereos of all time.

Big Ben? We're curious how Sanyo came up with the name for this one. Does the sound bellow like the hourly chime from London's famous clock? Perhaps the face of Big Ben came to mind after gazing into this stereo's giant central woofer. Whatever the reason is, Sanyo's Big Ben is an interesting boombox, and probably Sanyo's largest release to date. Big sound, good looks by a strong audio maker make this model sexy and desirable.
Released:    198?
MSRP:        $??? USD
Dimensions:  75.4cm x 40.1cm x 20.4cm
Weight:      9kg
Output:      45W (22.5W/channel)

Feather-Touch Controls; Removable Speaker Grille; Subwoofer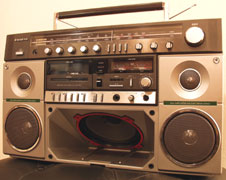 MR-X20 w/ Exposed Subwoofer.
CONION C-100F (CONION C-100FL; CLAIRTONE 7980; HELIX HX-4635)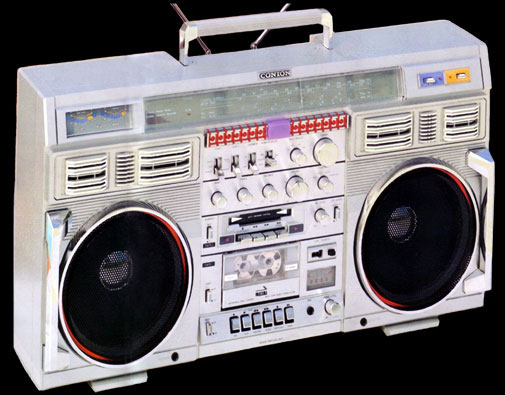 What's the definition of "ghettoblaster?" Many people will argue that the Conion C-100F (also released under the Clairtone and Helix brands) is the quintessential boombox. It's loud, flashy and reached legendary status on city streets in the '80s. The obscure brand may not be recognizable but chances are you've seen the C100-F–it has made cameo appearances in countless movies, commercials and music videos over the last 20 years. Rumor has it that the Conion is a standard issue prop for any film or video that involves breakdancing.
Released:    1984
MSRP:        $??? USD
Dimensions:  75.4cm x 40.1cm x 20.4cm
Weight:      12.0kg
Output:      45W (22.5W/channel)

Dual Cassette; Burglar Alarm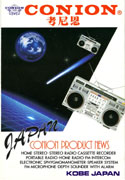 Conion stereo catalog.
PANASONIC (NATIONAL) RX-7000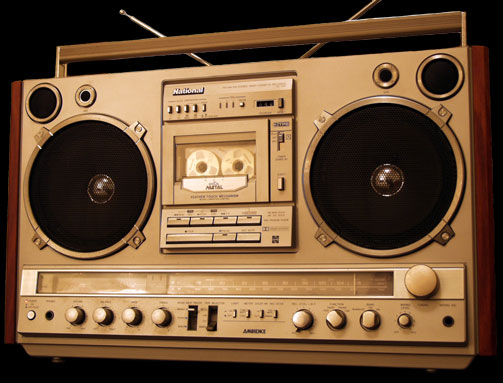 In 1981, Panasonic released what resembles a home stereo system in portable form. Its smooth silver face and wood grain end panels make this an appropriate addition to the home office or living room. Operate the cassette deck with its logic controls, tune the receiver with the weighted tuning dial. But RX-7000 wasn't just built to look good–crank up the volume and you'll quickly forget you're listening to a portable.
Released:   1981
MSRP:       $749 USD
Dimensions: 56cm x 33.3cm x 17.6cm
Weight:     9.0kg
Output:     15W (7.5W/channel)

Dolby B NR, 3 Memory TPS System, 0.05% WRMS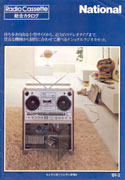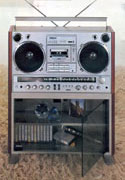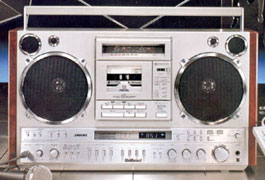 l-r: Panasonic stereo catalog; RX-7000 mounted on RD-9870 cabinet; RX-7200 w/ digital tuning.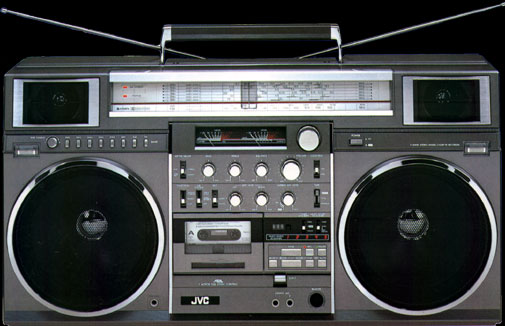 JVC was a strong brand in the boombox market–their PC-5, RC-M70 and RC-M80 are desirable models today. But the M90 was their largest and most feature-packed. Eight bands of tuning, Super ANRS noise reduction and full-logic tape control system are but a few of the bells and whistles on this complicated stereo. Though JVC isn't known for its cassette systems, this one boasted a super low 0.05% WRMS.
Released:    1981
MSRP:        $??? USD
Dimensions:  66.8cm x 35cm x 17.7cm
Weight:      10.0kg
Output:      40W (20W/channel)

Super ANRS Noise Reduction, 6 SW Bands, 5 Memory TPS System

JVC Stereo Catalog.

If you want a full stereo system that you can take with you, look no further than Sharp's offerings. 20+ years back, the VZ-2500, VZ-2000 and VZ-3000 included compact stereos systems with a radio, cassette recorder and yes, a turntable. And these were no ordinary turntables mind you, these used "AutoDisc" technology, marketed by Sharp with the phrase "Play Both Sides." Think of auto-reverse tape technology for a record player: using two tonearms, these stereos allowed one to play Side A or B without having to flip the LP over.
Released:    198?
MSRP:        $??? USD
Dimensions:  ??cm x ??cm x ??cm
Weight:      ??kg
Output:      ??W (??W/channel)

Super ANRS Noise Reduction, 6 SW Bands, 5 Memory TPS System

VZ-V20 in red.
BREAKDANCER BD-8000 (DIAMOND FL-990, VELA DISCO-1, COUGAR JR-800, SPACETECH ST-701, DYNASTY DISCOLITE, SKITRONIC) 

While this stereo's design was no doubt inspired by Sharp's GF-777, enthusiasts suggest the "Personal Disco Component" was built for the eyes, not the ears. With a black case and gold controls, this behemoth is nicknamed the "DiscoLite" for obvious reasons. LEDs cover the stereo's speaker area and light up when the music plays. This monstrosity originated in China and made its way to discount electronics shops in the late '80s.
Released:    1986
MSRP:        $??? USD
Dimensions:  72cm x 37cm x 13cm
Weight:      8.7kg
Output:      30W Music Power; 22W Maximum Power

Twin Tape System, 7-Band Equalizer, AM/FM/SW1/SW2, 10 Segment 
VU Meter

Madonna w/ Disco-Lite in 2005 music video "Hung Up".
SHARP MR-990 "MELODY SEARCHER"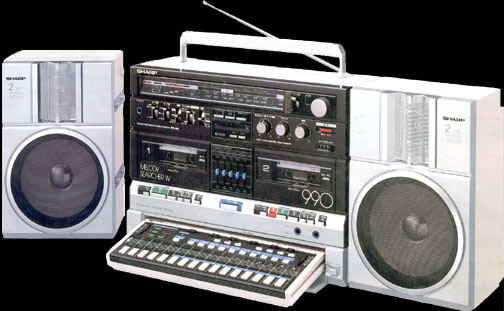 In the 1980s, Pop music was in the midst of a synthesizer explosion. The charts were dominated by the likes of Prince, Culture Club, and Duran Duran with their catchy, keyboard-heavy tunes. Sharp responded with their Melody Searcher, a twin-cassette stereo, AM/FM radio and a detachable keyboard computer capable of piano and rhythm functions. The armchair musician could now record his favorite hit on the radio and re-produce the sound on this personal music studio. The MR-990 was a short-lived model. Perhaps the price or the initimidating array of switches, buttons and lights that kept consumers from making this stereo a hit.
Released:    1985
MSRP:        ¥128,000 ($550 USD)
Dimensions:  ??cm x ??cm x ??cm
Weight:      ??kg
Output:      12W (6W/channel)

Twin Tape System; 5-Band Equalizer; Detachable Speakers; 
Melody Computer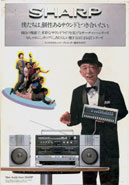 l-r: Japanese Sharp MR-990 Catalog; Sharp MR-990 Melody Computer