I was extremely fortunate to visit Tokyo and one of my most anticipated visits was to a little shop in the west end of the city called Turbosonic. This shop sells nothing but vintage boomboxes and stereo accessories! I believe this may very well be the only ghettoblaster store on the planet. If you don't have the ability to hop on a plane and check out Turbosonic, hopefully the photo tour below will suffice. You can also visit their website.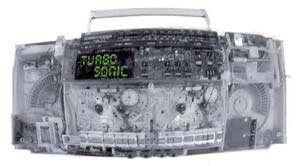 I finally arrived after a frustrating 90 minute metro ride and one hour search for the shop. The shop is on the 7th floor of a building pretty close to the subway station. But if you don't know Japanese (like me) getting around can be very difficult.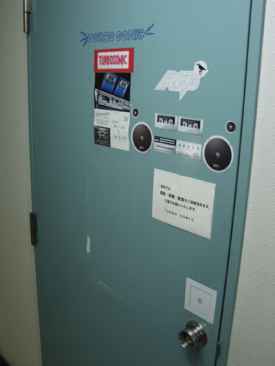 The left wall…see anything you like? Some of the most sought after radios are present on these shelves: The Sanyo Big Ben, Panasonic RX-7200, RX-7700, JVC RC-550, 2 Sharp turntable boomboxes!

The owner keeps a select collection of headphones and vintage audio tapes under glass. Somewhere in there is a new in the box Soundburger!

As you enter the shop you instantly notice that all of the TV boomboxes are displaying the same thing–these hypnotic videos synched to '80s homegrown beats. Very cool effect.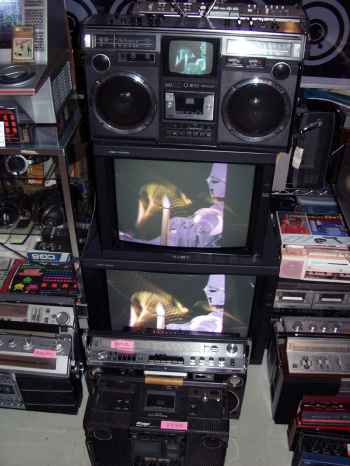 The owner also collects 12″ vinyl.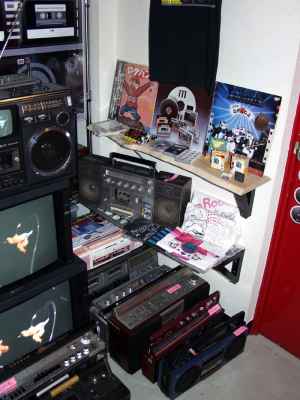 More classic radios against the back wall. Check out the Pioneer Disco Robo in his own little cabinet.

That arcade shaped thing was homemade by the owner's friend who's an expert in plastic. The illustration in the back was done by some well-known Japanese designer. It also serves as the illustration for the "official" Turbo Sonic t-shirt.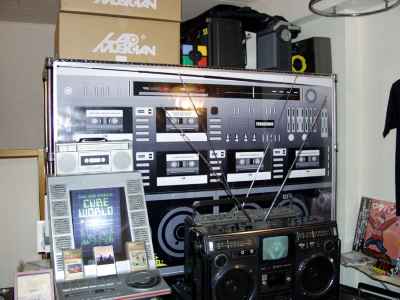 Shouro and Hisami are the owners of the shop. Incredibly nice people–they kept bringing out stuff to show, old catalogs, brochures, articles, etc. I wish I could've stayed longer!

I was pretty overwhelmed by all the stuff in here. Just now I'm noticing the boombox in the back with the color tv.

If you can make it to Turbo Sonic, please check it out. You can take the Marunouchi or Chuo Line to the western part of the city, the address is: Turbo Sonic, ACP Building 7F, 4-23-5 Koenji-Minami, Suginami-Ku, Tokyo. tel: 03-3313-5717.
I had a hard time finding it, but it's just a 2 minute walk south of the Koenji stop on the Chuo Line. It's on the 7th floor of an office building with a white facade and a large green sign on the roof.
UPDATE: Their shop has moved to the Shibuya district, a much more accessible neighborhood. Please visit if you can!